Anonymous
Slovaks beat Denmark 4:1, but both of them ends in the World Championship held in Slovakia this year and the quarterfinals are continuing without them. For the Slovaks it is a big disappointment, because our team belongs to the best ice hockey teams in the world and the most important players came home from NHL and KHL to support the national representation team (even injured Ľubomír Višňovský). It is said this was our last top team in the next era, younger Slovak hockey is out of business nowadays, first of all because of finances.
However, Slovak fans support their team all the time. In the end they did not damn the players, but they thanked them for all they did for Slovak hockey and also for medals from previous championships. They understand that the ice hockey is also just a game and not every time we win. Anyway, feel in Slovakia was /and still is/ amazing, plenty of cars "wears" flags and national symbols, people joined for the hockey and tourists from abroad are surprised how strong we feel the hockey fever here. The whole land is up.
One of the most emotive moments ever happened right after the farewell match. Pavol Demitra definitely ends with the hockey (because of the age) and the fans thanked him. He was so touched to the heart.
(Watching this me and most of my friends were crying too.)
Slovenská děkovačka po zápasu s Dánskem: Pavol Demitra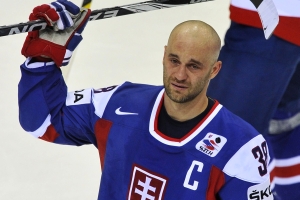 Results? Although Slovakia's team failed, it showed big heart and will. Players wanted to win and were trying so much, they were so worry about the gaming losses, because we all knew they could defeat any of the team in the world. But it's over and the life goes on. Anyway, the nation proved that it is able to unify in good and also bad times. This feel is unbelievable great. I wish it was like that all the time… Anybody won't forget these moments… and I'm sure I speak for the majority of Slovakia.
Positive ending : We often say "Nevadííí, nevadííí" which means "Nevermiiind, nevermiiind".
[size=16pt]Slovakia, we love you! ♥ ♥ ♥[/size]