Anonymous
We have quite some in Croatia. First weave of Croats settled Dalmatian Zagora, which is a continental part of north Dalmatia, and when they came here they named all the mountains as Perun while most of the valleys beneath the mountains were derivations of Veles (god of underground).
It is interesting that they were very precise when naming. It would be a mountain with name derivation of Perun and that would be the living world, then there would be a river indicating a border between the life and death, and after the river it would be a valley beneath that mountain with name derivation of Veles and that would indicate underground. So that reflected the beliving as well…
anyway in Croatia Perun toponims:
mountain:
Perun (brdo na Učki)

Places and hills in Croatia with Perun derivation:
Perun, Perunac, Perunovac, Perunika, Perunička Glava, Peruni Vrh, Perunja Ves, Peruna Dubrava, Perunuša, Perušice, Perudina i Perutovac, Perunić (Poljica) i Perunsko (Poljica)
at Učka:


Perun is the hill on the right 880meters.
this is Voloski Kuk (Veleses hip)


it's beneath the Perun hill of Učka, and you can see the river showing the "life border" between Veles(valley) and Perun(mountain).
Our old Pagan priests during the settlement had a very systematic naming of topology as one could see dedicated for worshiping our Gods. I would like to stress out that probably this part was the original settlement of newly arrived pagan Croats, it's where they made their first permanent settlement in present day Croatia.
This is other mountain in Dalmatia for example…it's called Poljička mountain, and it's top is called Perun. (interesting today Christians built a church of saint George on it, that's because during the Christianization they Christians turned Perun into a Christian saint of St.George thus that's the reason for building a Chruch at the top of the mountain with that name. Most likely there could have been a Slavic temple dedicated to Perun underneath that church.

Then a village in Slavonia, Mošćenica which derive from Slavic goddess Mokoš…there's a lot more and ill add more when i get my hands on it.
So in general this was the first settlement of arrived pagan Croats:
[img width=700 height=446]http://www.croatiasailingexperience.com/images/hrvatska/pp/6v.jpg"/>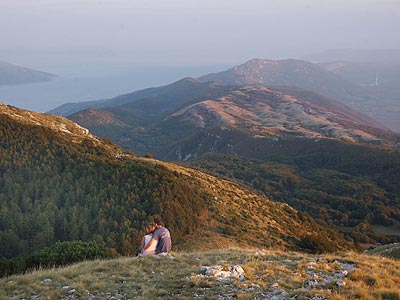 [img width=700 height=466]http://www.da-riva.hr/Repository/Slike/pp%20ucka%202.jpg"/>
there's really a bunch of Pagan topology names there.