Anonymous
http://traditionalrussiancostume.com/embroidphoto/index_en.php?nametxt=0
Ancient embrodery from Russia:
For description of symbols and bigger images please check the link.
Kudesnik, I checked the belarussians patterns and I have to say that from all slavic patterns (and romanian) this is my favorite: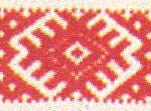 I saw that is used also in Ukraine and Russia. Can anyone tell me if this pattern may be found in other slavic countries as well?