February 5, 2017 at 11:16 am
#405984
Anonymous
Swastika is an ancient solar symbol common to many Indo-European coultures (European, Iranic, Indian). In Europe swastika was most common in eastern European. Unfortunately, German Nazi adopted and discredited the symbol.
Ukrainian easter egg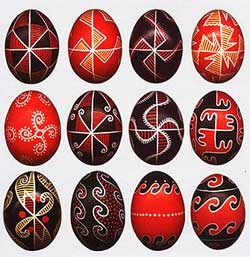 From old Ukrainian vyshyvanka
This is from old Belarusian woven fabric.
All east European cultures had this symbol. In Belarusian, Polish, Lithuanian, Latvian, Russian traditional cultures the symbols was common. Some people decided to use 'kolovrat' term instead of swastika due to negative association with the term swastika. Some avoid it altogether because Germany Nazi used it.
As for neo-pagans I don't mind them creating new symbols giving them certain names. I don't like neo-pagans attributing the recently made-up symbols to our ancestors who never had these symbols.