I like to constantly browse internet for Slavic-related stuff and read anything new which comes up. Recently I've typed "Proto-Slavic language" into the YouTube Search bar, and it gave me this video:
"Schleicher's Fable in Proto-Slavic language"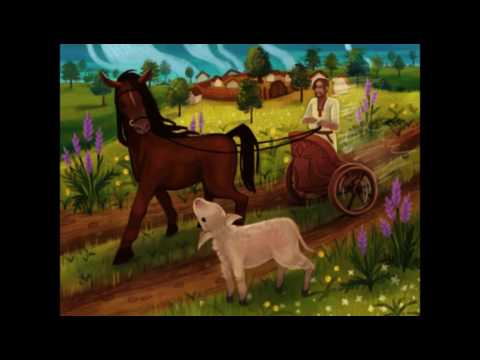 I was familiar with the Schleicher's Fable from before (from the movie Prometheus) and I thought this will be interesting. However, as soon as I have played the video, I realized that the only Slavic in this video is in the title. The text is far from Proto-Slavic. Anyone who's familiar with any Slavic language could see that this is not Slavic at all.
No Slav can understand a single word of the fable, and if indeed it was 5th century Slavic, we would understand a lot (given that Slavic language family is the family whose languages are the closest to each other, since it's one of the youngest families. One of the proofs for this is how much of Church Slavonic a typical Slav can understand).
So I have Googled a little, and found the text version of the fable:
Ovĭs esvŭ-če.
Ovĭs, česo vlĭna ne jazĭt,
esva speset,
inŭ žarŭõ vozŭ vézõtẽ,
inŭ-če meža borŭ,
inŭ-če žmonŭ asŭ bérõtẽ.
Ovĭs nŭ ésvomŭ vjučét:
"Srĭd áznutĕ mĕ,
esvŭ ágõtŭ virŭ vídẽti".
Esva tu vjučõt: "Sludĭ, ove!
srĭd áznutĕ ẽsmí vídẽtmŭ:
ner, podĭs, óvjemĭ-rĭ vlĭnõ
sĕbi germŭ vestrŭ črĭnjutĭ.
Óvjemĭ-če vlĭna ne jázĭtĭ."
To sésluvŭ ovĭs agrŭ bugĭt.
As soon as I've read the text, I've realized what it is: PIE (Proto-Indo-European)! Then, I have found this page which confirms it:
http://dnghu.org/indo-european-schleicher-fable.pdf

This text was made by someone who's familiar with the historical phonetics of Slavic, but not the Slavic language itself, because it's simply a PIE text with Slavic phonetic changes applied to it. However, languages don't work this way, we don't possess every single word and a word root from PIE. Sometimes words are lost, and new ones are loaned, or a Semantic change happens, etc. Languages go through many things, and certainly phonetics is not the only thing which changes in a language.
Therefore, this text should've been labeled differently to not confuse people. The webpage which link I posted, simply shows PIE dialects, and not the Proto-languages descending from it.
The text is still in PIE, with only phonetic changes applied to it. I guess it'd be more accurate to say that this is PIE with the earliest traces of a certain language family, so therefore saying that this is Slavic as it was before it became a separate language, while it still was just a dialect of PIE (and that would be around 1000BC, and not 500AD). However, even if it was, it certainly wouldn't look this way. Since, Slavic is not believed to directly descend from PIE, but through the PBS (Proto-Balto-Slavic) first, and then PIE. PBS language has already developed differently from PIE not just on the level of phonetics!
So, I have decided to analyze this text, correct it's mistakes, and present how Proto-Slavic version of this text would actually more likely look like. However, I've made this post already too long, so I'll correct the text in the next post.