The Arctic has always been a territory of special interest for the Soviet Union. In the 1930s. the development of the Arctic was perceived with same enthusiasm as the space exploration in 60s.-70s.
Crazy projects were developed and pioneers were considered almost national heroes. So the logical continuation of this movement was the projects of the Arctic cities, which would be distinguished by their comfort and safety.
Kharkivchanka
But first you need to come up with a way to establish a permanent transport connection with hard-to-reach areas. So in 1958 the Arctic all-terrain vehicle Kharkivchanka was developed. Designed for 10 people and showing incredible durability. Machines were on duty until 2008.
Arctic city
One of the first projects of the Arctic city was the project of Konstantin Agafonov in 1960. Agafonov proposed to concentrate the entire village in four large five-story buildings of circular shape and connect them together with covered walkways. One of the buildings was supposed to house a school, a sports center, administrative institutions and other service institutions. The rest had well-appointed apartments, and winter gardens and walking areas could be created in the courtyards, sheltered from the wind. The round shape of the buildings would make it possible to better retain heat and avoid strong snow drifts near the walls.
At the same time, other architects – Stanislav Odnovalov and Maya Tsimbal – were developing a similar, but slightly more complicated project. They proposed  building in the Far North a compact residential complex of several multi-storey towers connected by covered gallery-passages with a community center located under a glass geodesic dome. The project involved raising the ground floor three meters above ground level to avoid snow deposits on the walls and heat transfer from buildings to the ground.
The architect Valentin Tankian proposed a project for a village for four thousand people, consisting of one ring-shaped building, combining housing, sports and cultural institutions, a winter garden, shops and schools under its roof.
Unfortunately, the projects of cities with a microclimate were never realized, and the Soviet Arctic cities were built in the likeness of typical Soviet industrial towns, albeit with some changes due to the climate.
Arctic Trilistnik military base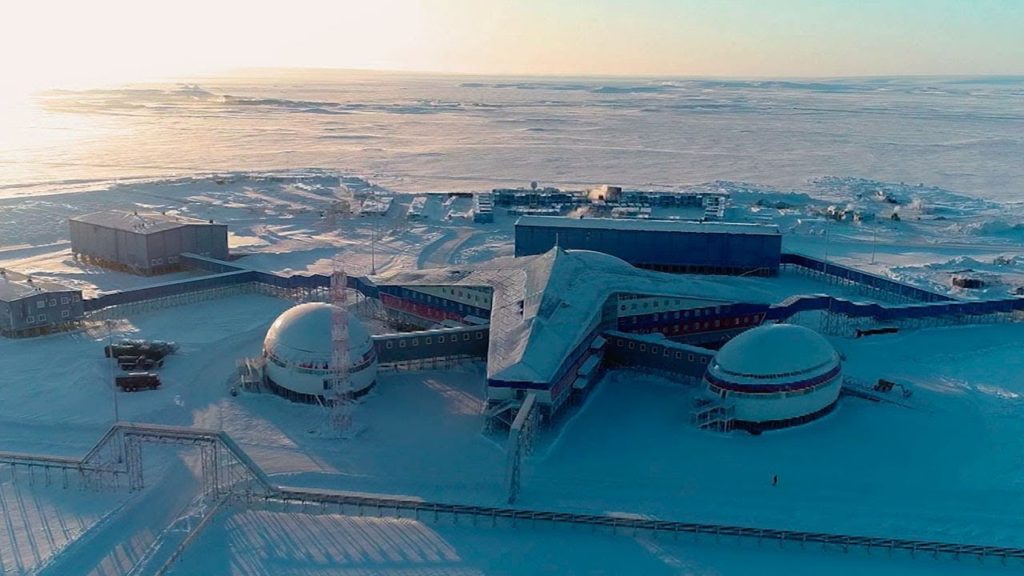 However, some 60s. romantic principles were implemented in the famous Arctic Trilistnik military base built in 2007.
Akademik Lomonosov
The world's only floating nuclear station Akademik Lomonosov was commissioned in 2019 and currently provides energy to the Arctic city of Pevek. At the moment, the station represents the increased interest of modern Russia to this region.