ANA Draxin is a name that means little to anyone. Baba Anujka or Banatska vještica are nicknames by which this woman, who lived at the turn of the 19th and 20th centuries in today's Serbia, was far better known – but still unknown to the vast majority of the inhabitants of the former Yugoslavia writes Index. By all accounts, Baba Anujka was the first and largest serial killer of the former Yugoslavia, and probably among the largest serial killers in the world. It has been involved in poisoning at least 50, and by some estimates up to 150, if not more people. 
When she was finally convicted of her crimes, she was 90 years old. She was sentenced to 15 years in prison, but according to one version she was released after 8 years due to her advanced age and died two years later, at the age of 100. According to another, even more incredible version, as the Serbian Alo writes , she was released from prison by the German occupiers in 1941, after which she died in her house at the age of 104. 
Baba Anujka lived on a large estate in the village of Vladimirovac between the towns of Vrsac and Pancevo. According to some sources, she was born in Romania, in the family of a wealthy cattle breeder, in 1837 or 1838, to move as a child with her family to Vladimirovac in the Serbian-Hungarian-Romanian province of Banat, then the Military Frontier of the Habsburg Monarchy.
She overcame syphilis, her ten children died, became a widow and started selling "bay water" with arsenic
The main source of information about her life and work is the book by chemistry professor Šimon Đarmati, Baba Anujko – a sorcerer from Vladimirovac, which was published in 2007 and thus saved this dark story from oblivion. 
At her trial, grandmother Anujka said that when she was 20, she was seduced by an Austrian officer who infected her with syphilis. After that, heartbroken, she retired to solitude and devoted herself to the study of medicine, conventional and folk. Her father agreed to marry a rich peasant from Pishtovo in Vladimirovac, much older than her. In 20 years of marriage, she bore him eleven children, but as many as ten died. After her husband died in the fifties, she built a kind of laboratory in one wing of the house and started her dark craft. 
She was educated in a boarding school where she was observed to be sleepwalking, which at the time was understood as a characteristic of a person who returns sorcery, but also of other persons who have supposed supernatural powers.
 Anujka really became a sorceress who sold her "bayana vodica" to her customers, that is, "miracle" drinks to solve marital, property and other problems. But by all accounts, the solution to their problem meant the liquidation of a person who was a problem for them or resented them for something, and this sorcerer was ready to provide them with this horrible service. 
The main ingredients of its "bay water" were deadly poisons such as arsenic, mercury, mousetrap or tatula plant, also known as grasshopper or devil's grass. 
She always asked "how severe is the problem" so she could dose the poison
"At first glance, she was a nice old woman, and at second, third and fifth sight she was a dangerous poisoner and sorcerer. Very often she didn't even know her victims. On the other hand, she thought she was actually helping people solve their problems." , writes Đarmati in his book.
In an interview with the Serbian Telegraph  , Jarmati says that this paid poisoner, when a customer came to her with a problem, she first asked "how difficult is that problem". In doing so, she was actually thinking of a person's body weight, so that she could accurately dose the poison in her "water". Based on that, she could predict exactly how many days a person who drank her "water" would succumb to the poison.
"After the eighth day, you will no longer have a problem," she would let customers know, charging her deadly drink from two to 5,000 dinars at the time.
Đarmati states that this poisoner also had her assistant, Ljubinka Milanov: "She listened, especially in the evening when the women went to the well, then they recounted their secrets from the bedrooms and from the family and so on. And not only their secrets, but how they point to something going on in some other houses, and then she listened to it and just kind of gave them a sign, 'Why don't you go to Grandma Anujka's?' She played a disinterested person, but she passed everything on to Grandma Anujka. So when they showed up at Grandma Anujka's, she already knew everything about their problems. "
However, not every one of her potions was meant to be killed. Some customers wanted to get their family members out of military service, so Grandma Anujka would give them a milder version of the poison, intended to make them only currently unfit for military service. Likewise, some came to foretell their future, including rich and powerful individuals who had heard of it. 
Customers are mostly women, and victims are their wives
"Many came to her for help. Generals came, ministers came, who believed in her power and believed that she could show them which way to go. She actually developed a very lucrative business, you could say a sorcerer. She was able to, when assessing whether a customer was in good financial condition, pretend that she could not return that day, in fact she used the opportunity to tell them to come another day, estimating that they would not leave, because then traveling from other cities was very difficult, and when they tried to convince her that she was somehow sorting them for the day, then she said, 'You'd better spend the night there.' She had accommodation for such guests, she had the opportunity to offer them food, which was, of course, specially paid, "explains Đarmati.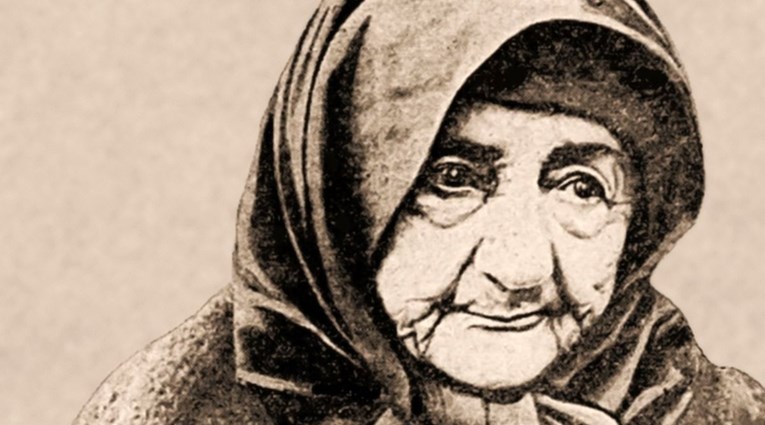 In any case, the Banat witch killed dozens of people – the exact number we will never know – and her crimes could not be proven because the family, which participated in the crime, regularly refused to allow the autopsy of the poisoned and cooperate with police, writes Serbian Blic . 
It is quite interesting, however, that, at least as far as poisoning is concerned, her customers were mostly women, and killed were mostly their husbands, whom they wanted to get rid of for one reason or another. 
However, it seems that Grandma Anujka did not always kill to order – at least sometimes she did it out of pure malice. According to the Telegraph, according to the testimonies of the locals from that time, she usually sat in her room, in a black dress and with a black scarf on her head, typical of widows in the countryside. Sometimes she would go out in front of the house and greet passers-by. 
Poisoned a young married couple with "lemonade"
One evening, two newly married young men, Maria and Tito Vakarescu, were returning from a party. Unfortunately for them, they passed by her house. The old woman was sitting on the steps of the house. It was summer, it was very warm outside and she offered to freshen up with her lemonade. 
After seven days, they both died, the oldest resident of Vladimirovac, Georgi Veseji (82), recounted one of the most famous tragedies of this village. They were only 18 years old. Their grave is located at the very entrance to the village cemetery, as a reminder of this tragedy. 
Her bloody "career" reportedly lasted 40 or even 50 years, and over time, gruesome rumors began circulating about her and the hundreds of murders she committed. However, the Austro-Hungarian authorities ignored them, until she was arrested for the first time in 1914. However, at the trial in the Banat town of Bela Crkva, she was released, according to the Austrian newspaper Tagblatt and Serbian Politika from 1929. 
Baba Anujka successfully evaded justice for another 14 years, during which time the First World War ended, the Austro-Hungarian Monarchy disintegrated and was replaced by the Kingdom of Yugoslavia. This lasted until one poisoning in 1928 went wrong. 
Convicted only in 1928, she denied everything until the end
Namely, the dose of poison intended for the rich widower Gaja Prokin from Ilandža was not strong enough, so the unfortunate man managed to go to the doctor before he died a few days later. The drink in this case, namely, was not prepared by grandmother Anujka, but by her assistant Ljubinka Milankov. An autopsy was performed this time and, of course, revealed that Prokin was poisoned. Milankov admitted both her role and that of her boss, after which the ball began to unravel. 
Other poisonings were also discovered, such as those of Nikola Momirov and Lazar Ludoški, for which she was tried because she was directly involved in them, unlike the murder of Prokin. 
Sofia Mamirov, a beautiful young woman, allegedly poisoned her husband Nikola so she could be with her lover. She confessed to her crime, but also since when did she get the poison. 
"I went to" grandma "in Vladimirovac because I heard that you could get a drink from her. I complained to her and she cried with me and then gave me poison …", this young widow allegedly testified, to which grandma Anujka allegedly jumped up and shouted, "You lying, evil snake, you bitch!" Court clerks barely silenced the angry old woman. 
World news
Although she denied her crimes and pretended not to hear embarrassing questions while testifying, Baba Anujka was eventually sentenced to 15 years, while her accomplices Stana and Sofija Momirov were sentenced to life in prison. 
"She died at the age of one hundred from senile dementia. Whether she did anything when she returned from prison or not is not known. There are a lot of unverified stories. According to some, she still practiced the craft, that they still came to her "I personally doubt it. Although she killed 150 souls with her poisons, she is one of the most influential women of all time," concludes Đarmati.
But one thing is for sure – the case of the Banat witch was world news when she was convicted in 1929 , as evidenced by the then newspaper articles from Austria (Kronen Zeitung, Tagblatt), Australia (The Worker, The Advertiser) and the USA (The Baltimore Sun, New York Herald Tribune), with headlines like: "Accused of 50 murders, a woman (93) got 15 years – 'Banat Witch' gave poison to women who were tired of their husbands". Therefore, it is even more unusual that the story of the Banat witch is so little known today.